This week was eventful with many wonderful opportunities to honor great Georgians and sign onto legislation. The pace has definitely picked up with the amount of bills making it out of their respective committees and onto the floor for a vote.
Transportation dominated the floor this week, with several bills being passed that affect access to the roadways and safety.
                                                Passed in the House
HB119 – Updates the law that requires drivers to safely change lanes or slow down when approaching stationary emergency or service vehicles on our roadways so that drivers do not pass directly next to stopped emergency vehicles and also requires drivers to move over for any disabled vehicle, such as another car or tow truck, that displays flashing hazard lights and/or yellow, amber, white or red lights if it is safe to do so. I voted yes.
HB120 – Updates the list of individuals with a suspended, revoked or canceled license who are eligible to apply for a limited driving permit, which restricts where and when these individuals are allowed to drive. I voted yes.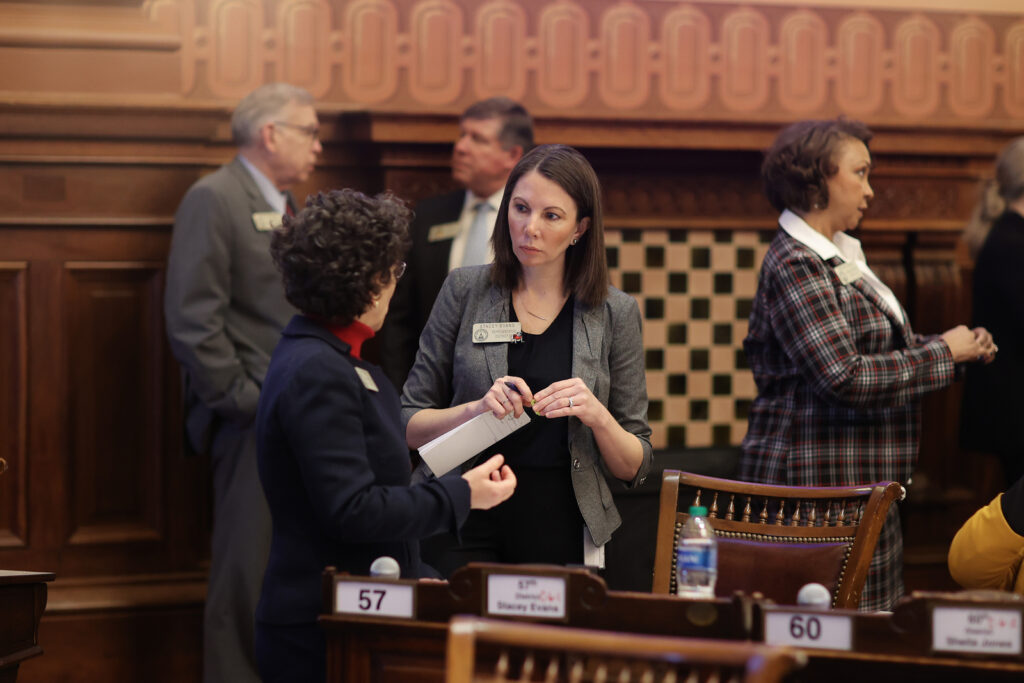 Legislation I have Sponsored or Co-Sponsored this week
Fighting for workers
HB245 – This bill would take away a state preemption that keeps local governments from setting their own minimum wage within their jurisdictional boundaries. To read more about this bill click here.
HB267 – Authorizes private causes of action for equitable relief when an employer improperly categorizes workers as independent contractors when they should be categorized as employees, thus being eligible for benefits and with their employers having responsibility to withhold income taxes.
Environment
HB71 – Otherwise known as the Okefenokee Protection act, prohibits the director of the Environmental Protection Division of the Natural Resources Department from issuing, modifying, or renewing any permit or accepting any bond to conduct surface mining operations on Trail Ridge for future permit applications and amendments.
Common sense gun safety
HB135 – Establishes the criminal offense of failing to adequately secure a firearm and provides for a penalty. You can read more about the bill here.
HB195 – Provides for a firearms safety training course for certain persons making an application for weapons carry license or renewal license.
HB161 – Otherwise known as the Pediatric Health Safe Storage Act, establishes the offense of making a firearm accessible to a child, and provides criminal penalties for such offense.
Economic development and education
HB131 – Otherwise known as the Workplace Development Act, provides that students known as Dreamers shall be deemed opportunity students and shall be eligible for in-state tuition. This legislation helps students, families, and grows our workforce. Win win.
HB238 – Provides for the State Board of Education to establish a five-year pilot program to incentivize qualified local units of administration to utilize school bus monitors to promote and enhance student safety and appropriate student conduct as part of the local unit of administration's transportation program
HB310 – Removes the SAT requirement to receive a Zell Miller Scholarship. Our students are more than an SAT score and we should not tie financial aid to this test that more rewards those who can afford extra tutoring than really predicts college success. 
Health
HB191 – Increases the taxes on tobacco and vaping products to put Georgia in line with the national average (we are way low currently) and establishes that the proceeds derived from such increase are intended to be appropriated for healthcare purposes.
Good Government – Independent Redistricting
HR18 – Proposes an amendment to the Constitution of the State of Georgia to provide that the General Assembly may provide, by general law, for the redistricting of the state Congressional, House and Senate districts by an independent commission.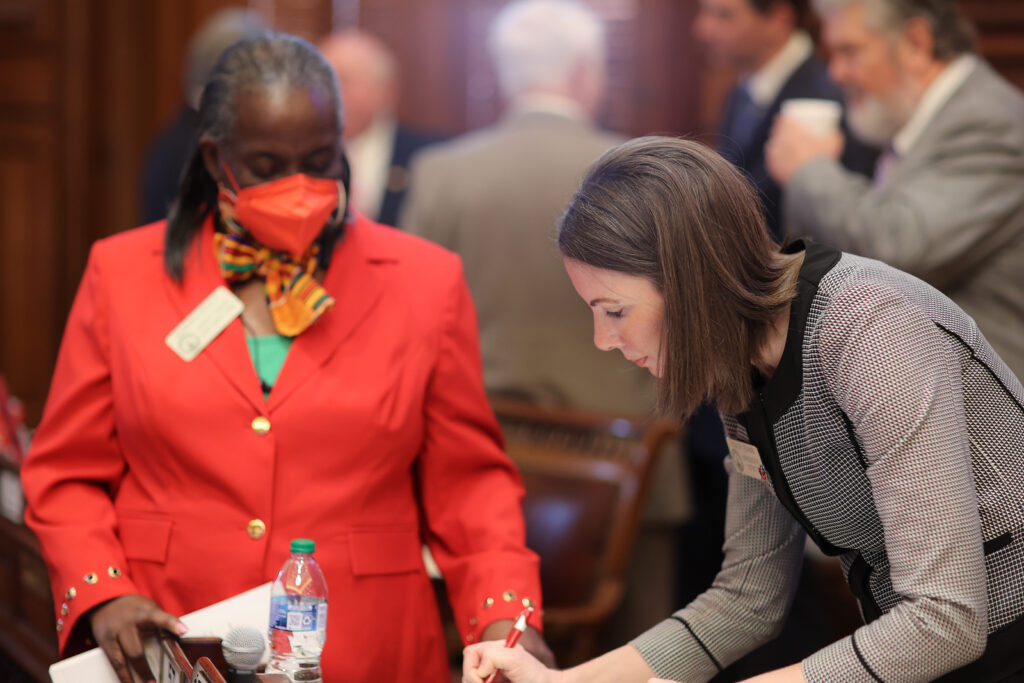 Honoring WWII Veteran Louis Graziano
On Monday we had the privilege of honoring a true American hero, Louis Graziano. Mr. Graziano was born in 1923, making him the last surviving World War II veteran to witness Germany's surrender.  He turned 100 on the day of his visit at the Capitol! Part of his job called for him to be responsible for all American occupied buildings in Reims, including the Little Red Schoolhouse where Germany signed the surrender document; and after witnessing the signing, Mr. Graziano took the Germans to another room to meet General Dwight D. Eisenhower. To read more about his life and service during WWII, click here.
Go Braves!
On Tuesday, we honored Michael Harris from the Atlanta Braves for being the 2022 National League Rookie of the Year. Go Braves!
 Young Lawyers Division Lunch
On Wednesday, I spoke at the Young Lawyers Division annual lawyer-legislator lunch panel. It was great sharing stories and advice for young lawyers, many of whom I hope will one day run for office. Citizen legislatures like Georgia's are good because they are full of members with many different professions, giving us many real world perspectives. Because we are writing laws, it is good to have lawyers! And we need more.
Japan Consulate Reception
On Thursday, I attended a reception with the Japan Consulate General, Mio Maeda. It was a very inspiring evening where we heard from several Japanese businesses who count Georgia as home. 
Friends don't let friends be uninformed
Help your neighbors stay informed and encourage them to subscribe to our newsletter. You can check the boundaries of District 57 here to find friends who may want to keep up with the goings on under the Gold Dome. Anyone (in the district or not) can subscribe to this newsletter by visiting my website and filling out the form "Join us, sign up for email updates" on the home page. Each one reach one!
As always, it is an honor to represent you under the Gold Dome. Please continue to reach out to me with your questions and thoughts on legislation.