This week was the sixth week of session. We are officially halfway through the 2023 Legislative Session. The pace still feels slower than in prior sessions. I sense we are about to start moving very fast. Let's all buckle up for the next 20 legislative days!
Crossover Day (the day by which a bill must pass either the House or Senate to stay alive for the session) is March 6 (8 legislative days away).
                                         Post-Crossover Virtual Town Hall
We will be having our second town hall of the 2023 Legislative Session on March 8th. State Senator Sonya Halpern and I will bring you the latest news from the Gold Dome post-crossover day and answer any of your questions. Please register here for this virtual event.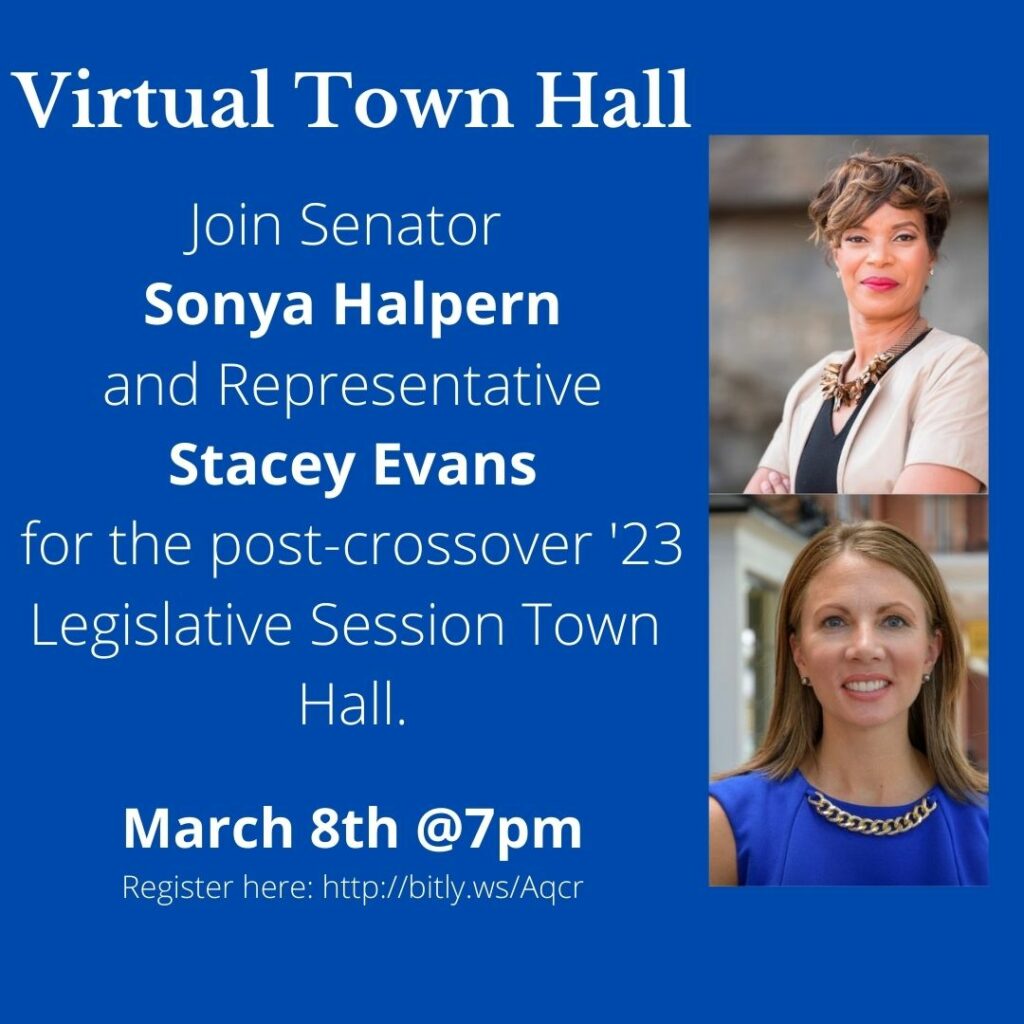 Legislation this Week
Below is a list of highlights of legislation that passed in the House this last week. I voted yes on each of these bills.
Healthcare
HB85 Requires health benefit policy coverage for biomarker testing if supported by medical and scientific evidence. This will allow for more early detection, which will save lives and money.
HB143 Requires the Department of Community Health to include continuous glucose monitors as a pharmacy benefit for Medicaid recipients. This is a huge step forward for those living with diabetes. Continuous glucose monitors have been available for those who can afford them; now more will have access to this amazing technology.
HB215 Would create licensure requirements for advanced practice registered nurses (APRNs) and would define APRNs as persons registered with the Georgia Board of Nursing as a certified nurse midwife, certified nurse practitioner, certified nurse anesthetist, clinical nurse specialist in psychiatric/metal health or a recognized APRN before June 2006; this bill would also make practicing as an APRN without licensure a misdemeanor and allow APRNs and physician assistants to prescribe handicap stickers to patients.
HB129 Expands the eligibility criteria for Temporary Assistance for Needy Families (TANF) benefits to pregnant women. Current law only allows families with children to qualify if they otherwise meet the income limitations. Under this bill, pregnant women who meet the income limitations can qualify while pregnant (rather than having to wait until their children are born). I am glad we are allowing these benefits to pregnant women, but TANF benefits are long overdue for income eligibility changes, which does not change with this legislation. A family must earn less than $9,400/year to be eligible for TANF. Only 40% of Georgians living below the poverty line qualify for TANF benefits. This means that 60% of Georgians who live below the poverty line "make too much money" to qualify for TANF. We should do better.
Education
HB87 Otherwise known as the "Completion Special Schools Act"; provides for the continued operation of state chartered special schools, which were previously set to sunset. These completion special schools allow students who are behind on high school credits, at-risk of dropping out of high school or have already dropped out to enroll in these non-traditional schools to earn their diplomas with greater flexibility through online instruction or night classes. Importantly, live classroom teachers are present while students are engaged in online instruction (working at their own pace). These schools have proven to be great tools for students to earn diplomas who may have otherwise dropped out.
HB81 Revises the eligibility criteria for certain capital outlay grants for low-wealth school systems. This legislation will allow more school systems to qualify for additional aid.
Judiciary
HB139 Would restrict the disclosure of the home address, date of birth and home phone number of a non-sworn employee of a law enforcement agency if he or she testifies for the prosecution in a criminal case and would instead allow the disclosure of the employee's current work location/phone number.
Licensing
HB76 Would revise the licensing requirements for an associate marriage and family therapist to allow the Commission on Accreditation for Marriage and Family Therapy Education to set coursework requirements, minimum training hours and the type of clinical experience applicants must have; this bill would also update the clinical experience requirements for associate marriage and family therapists that are already licensed and/or hold a qualifying master's or doctorate degree.
Governmental Affairs
HB193 Increases the dollar values of certain public works construction contracts exempt from bidding requirements from $100,000 or less to $250,000 or less. Given the rise in prices for construction projects, this is common sense legislation that will help local governments move projects forward faster.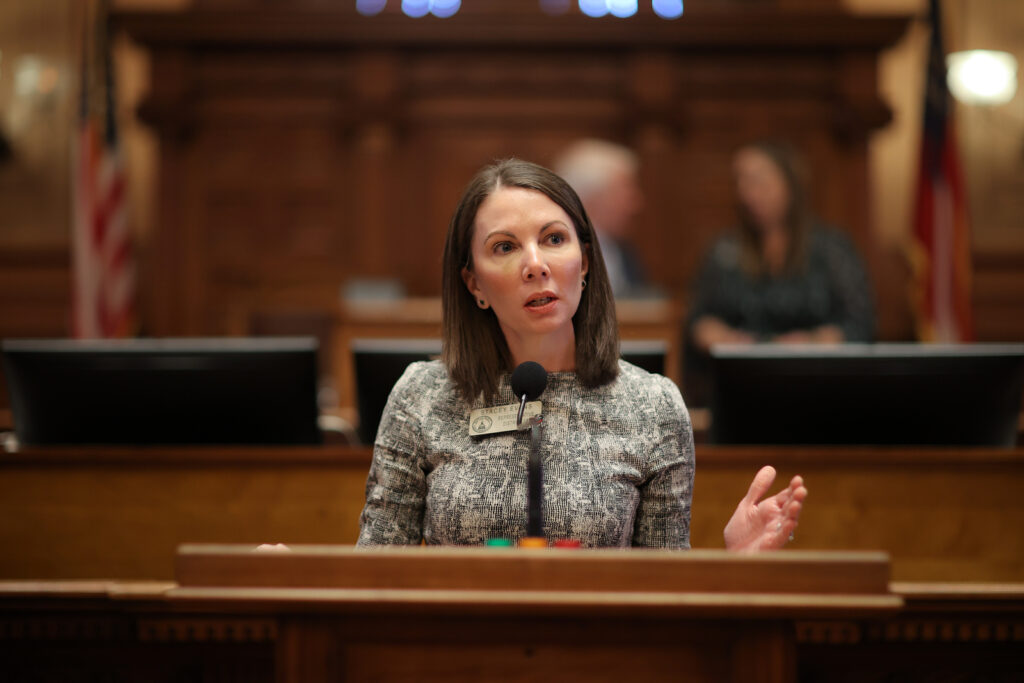 Gun Safety Press Conference
On Monday, the Georgia Democratic House Caucus held a press conference on gun safety legislation. I was proud to stand alongside my colleagues. Democrats have introduced multiple common sense gun safety bills. Yet none of these bills are receiving committee hearings. This means the House will not even listen to the evidence that screams out for reform. Guns are now the number one killer of children. (Click here to read more)
It is infuriating that House leadership will not allow us to hold hearings to talk about this fact and explore ways to stop the senseless violence and killing. Why are we refusing to try?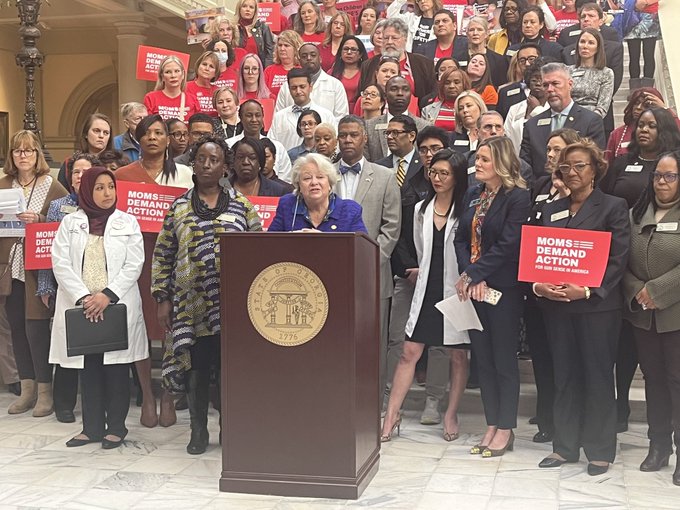 Students Always Welcome at the Capitol
On Monday I hosted a group of students from my high school alma mater, Ringgold High School, including my niece (a special treat for me!). These leaders of the Student Association of Family and Consumer Sciences toured the Capitol and watched government up close. If you have a student group that would like to visit the Capitol, please let us know, we'd love to have you!
On Wednesday, I was excited to have two students from the district join me as pages. These smart, talented, and beautiful sisters got to be on the House floor for some entertaining debate on legislation. Thanks to all who applied to be pages this year, we've now filled our allotted slots. But if your child (ages 12-18) would like to visit the Capitol, let me know and we can arrange a more informal visit.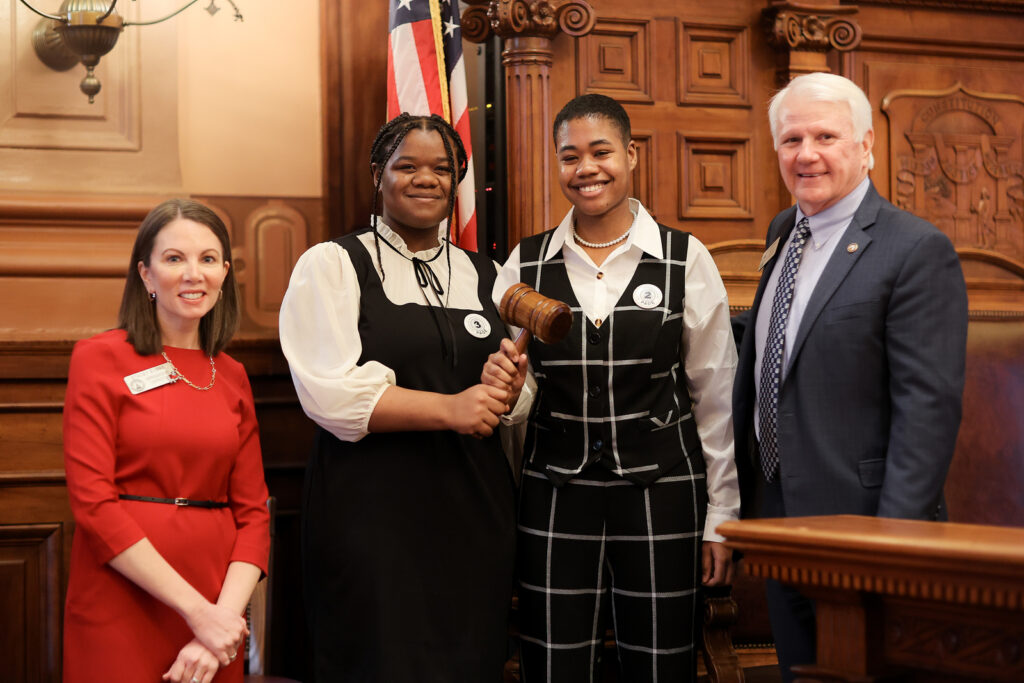 Energy Matters Awards Nominations
Commissioner Tim G. Echols is hosting the 2023 Inaugural Energy Matters Awards! I would like to recognize the accomplishments of energy and sustainability in Georgia. I will be nominating constituents to Commissioner Tim Echols, whose team will reach out to finish the application. The categories are below:
Sustainability by a Government

Sustainability in an Underserved or Faith Community

Sustainability by a Medium/Small Company

Sustainability by a Large Company

Sustainability by an Individual

Sustainability by an Educational Institution

EV Implementation by Large Company

EV Implementation by Institution

CNG or Propane Implementation

Recycling/Reuse
If you or someone you know qualifies, please reach out to me at [email protected] and I will pass forward your nomination. Nominations will be submitted through March 6th. Each winner will receive a framed art print donated by YKK as well as a radio appearance on Cox Media. The awards will be presented at the Coastal Earth Day Event in Darien, GA on April 21st. More information for that event can be found here.
Friends don't let friends be uninformed
Help your neighbors stay informed and encourage them to subscribe to our newsletter. You can check the boundaries of District 57 here to find friends who may want to keep up with the goings on under the Gold Dome. Anyone (in the district or not) can subscribe to this newsletter by visiting my website and filling out the form "Join us, sign up for email updates" on the home page. Each one reach one!
As always, it is an honor to represent you under the Gold Dome. Please continue to reach out to me with your questions and thoughts on legislation.