We have finished the eighth week of session. This last week was very busy, but there is still so much more to do. Monday, March 6th is Crossover Day. Day 28 "Crossover Day" is the last day that a bill must pass either the House or Senate to stay alive for the Session (absent some creative amendments). We will likely work well into the evening on Monday and vote on a flurry of bills. Make sure to register for my Crossover Town Hall (details below) to hear what bills survived.
Crossover Virtual Town Hall – Wednesday!
We will be having our second town hall of the 2023 Legislative Session on Wednesday, March 8th. State Senator Sonya Halpern and I will bring you the latest news from the Gold Dome post-Crossover Day and answer any of your questions. Please register here for this virtual event.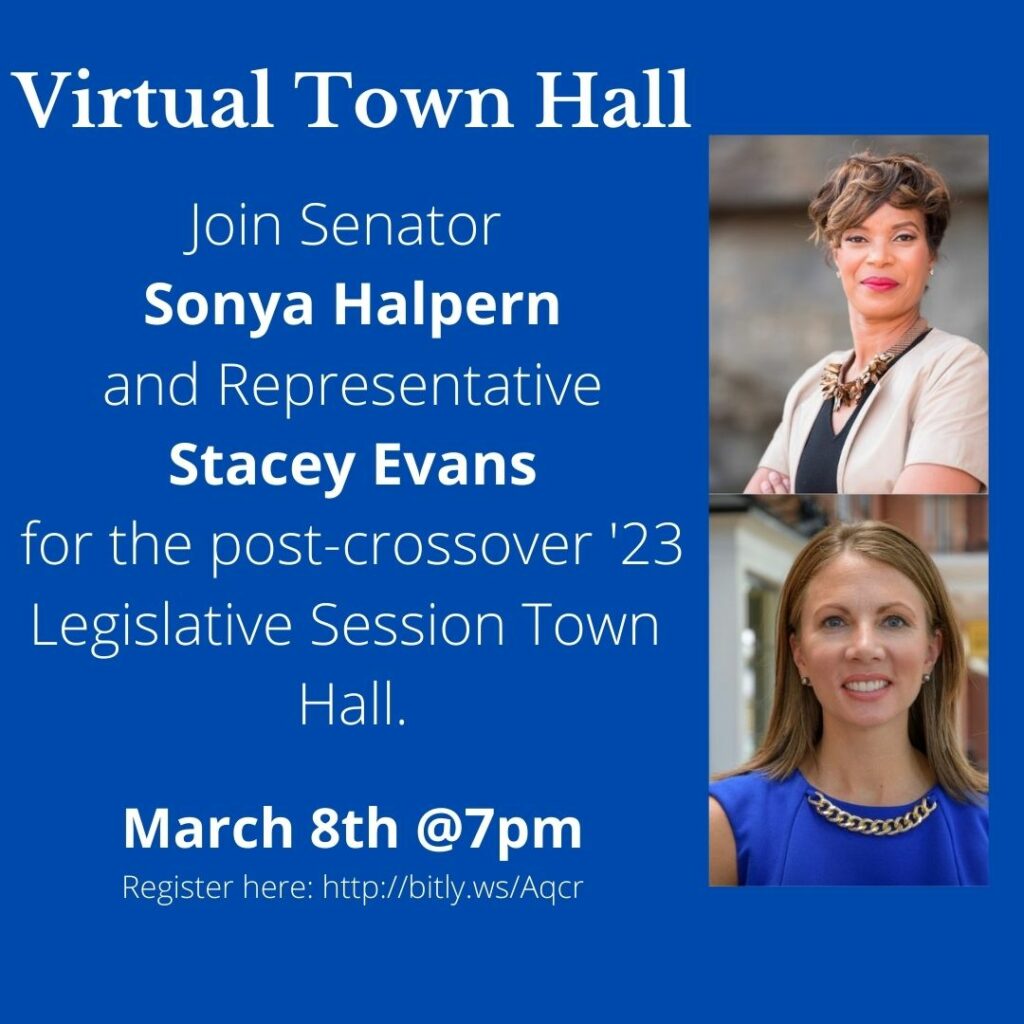 City of Buckhead City Fails in the Senate
SB114 would de-annex the neighborhood of Buckhead from the City of Atlanta to create the new City of Buckhead City. This legislation had been moving through the Senate committee process, but was soundly defeated on the Floor of the Senate on Thursday by a vote of 23-33. This should be the death knell for this reckless legislation pursued by legislators who do not represent or live in the City of Atlanta. If this bill had passed, it would have been disastrous for our City and also risks the State's AAA Bond rating. I am grateful that my Democratic colleagues in the Senate, many in the House, neighborhood advocates, business leaders, and our Governor stood against this terrible legislation. Good riddance!
Our Children Deserve More from Their Leaders
On Monday the House passed HB147 which requires all schools to perform intruder drills to prepare students and teachers on safety measures they can take during a school shooting. I voted yes for this bill because our students and teachers should be prepared for the very real threat of school shootings. But that is because they cannot change the reality that school shootings are part of life and they have no choice but to prepare.
I am angry about this vote because we—the leaders of this state—can do more to change this reality. We could start by passing common sense gun safety laws to do more to try to keep guns out of the hands of those who would do us harm. Legislation has been introduced regarding waiting periods, background checks, and gun safe storage laws, among other bills. Yet Republican Leadership has not scheduled a hearing for any of these bills.
**We did receive word on Friday that the gun safe storage bill would receive a hearing. I hope this occurs soon and that we can pass this bill before Crossover Day.**
Government can do more to decrease the chances that school shootings occur by passing common sense gun safety laws, yet Republican leadership in Georgia pretends there is nothing we can do, and tasks our children and teachers to just do their best to stay alive with intruder drills. I refuse to believe this is the best we can do and will keep fighting for common sense gun safety laws.
Watch my remarks on the bill below:
A Big Win for Georgia Renters! 
HB404 otherwise known as Safe at Home Act, passed in the House this week. This is great legislation aimed to protect renters from slumlords. For the first time in Georgia history, any written or oral contract for a dwelling place is deemed to have a provision that the property is fit for human habitation. The legislation also limits the amount of security deposits to no more than two times the monthly rental rate and requires a 3-business day right to cure any default on rent payments (currently there is zero right to cure). There is still more we can do, but this is a giant start in the right direction. Read more about this legislation here.
Dropped Legislation Alert: requiring hearings for local transportation projects
This week I dropped HB608, which would require more GDOT public hearings on more transportation projects. This legislation is necessary because there is currently a loophole in our Code that allows GDOT to participate in certain transportation projects without providing public notice.
This loophole nearly led to the construction of a roundabout near Ansley Park and Sherwood Forest with no public input. Luckily the residents found out about the project, mobilized, and I worked to ensure GDOT heard from them about the impact to the neighborhoods. It is wrong that the neighborhoods were not heard from sooner and HB 608 aims to ensure that something like this never happens again.
Coleman-Baker Act for Cold Cases Passes in the House
HB88 otherwise known as the Coleman-Baker Act, passed in the House this week. This bill would allow families to apply to a unit of the GBI to review cases after six years of no movement. The bill also allows families to obtain death certificates, even when cases remain unresolved. This bill comes about because of the hard work and tragedy that struck many families in our state, including the family of Tara Baker, a classmate of mine at UGA Law School who was murdered during our first year. I was very pleased to see this legislation pass in the House. Now on to the Senate!
Watch my remarks below.
Other Votes this Week
Below is a list of other highlights of legislation that passed in the House this last week. I voted yes on each of these bills.
Health
HB440 Authorizes public and private schools to stock a supply of undesignated ready-to-use glucagon.
HB414 Provides for a grant program within the Department of Behavioral Health and Developmental Disabilities to provide behavioral health services to military service members, veterans, and their families.
HB416 Authorizes qualified pharmacy technicians to administer certain vaccines.
HB497 Authorizes the use of certified medication aides in penal institutions to administer medications, perform glucose check finger sticks, and other similar acts. This legislation will allow for better access to healthcare for our inmates and prevent preventable medical emergencies from a lack of basic medication administration and monitoring.
HB520  Expands student loan forgiveness for mental health care providers, creates new crisis stabilization units, and mandates more data sharing among agencies to assist with studying problems and planning for services. This bill is a follow on to the mental health measures we passed last session. It is great to see Georgia working hard to address the very real crisis of mental health.
Judiciary
HB227 Provides for the offense of criminal interference with critical infrastructure, which seeks to increase punishments to deter digital hacking and disabling of water, electric, and other vital public services.
HB302 Ensures that victims can seek temporary or permanent protective orders against stalkers.
HB470 Allows for voluntary open communications related to healthcare under rules of evidence. As well as provides that certain open communications shall not be subject to future disclosure. This bill aims to provide an avenue for injured patients to seek compensation outside of the judicial system without fear of creating evidence in any future judicial proceeding.
Insurance
HB480 Changes certain provisions related to workers' compensation benefits, relating to surviving spouse dependency determination and termination, increasing the compensation benefits for total disability and temporary partial disability, and increasing the total compensation payable to a surviving spouse as a sole dependent at the time of death. While this legislation provides for an increase in workers compensation benefits available, Georgia's system remains woefully inadequate. We are one of only two states that does not automatically adjust workers compensation rates through an indexing process to ensure that rates keep up with the reality of wage growth in our state.
HB384 Relates to individual accident and sickness insurance coverage for mammograms, pap smears, and prostate-specific antigen tests, as well as provides for annual notification by insurers to male insureds of coverage for prostate-specific antigen tests.
Motor Vehicles
HB301 Limits the amount of civil monetary penalties that local governments may charge for violations of improperly passing a school bus and speeding in a school zone when captured by cameras.
Tourism
HB237 Designates the Southeast Georgia Soap Box Derby as the official soap box derby of the State of Georgia.
Regulated Industries
HB155 Provides for the issuance of licenses by endorsement for certain licenses to spouses of firefighters, healthcare providers, and law enforcement officers who relocate to the State of Georgia.
HB31 Dedicates the proceeds of certain hazardous waste fees to the Hazardous Waste Trust Fund.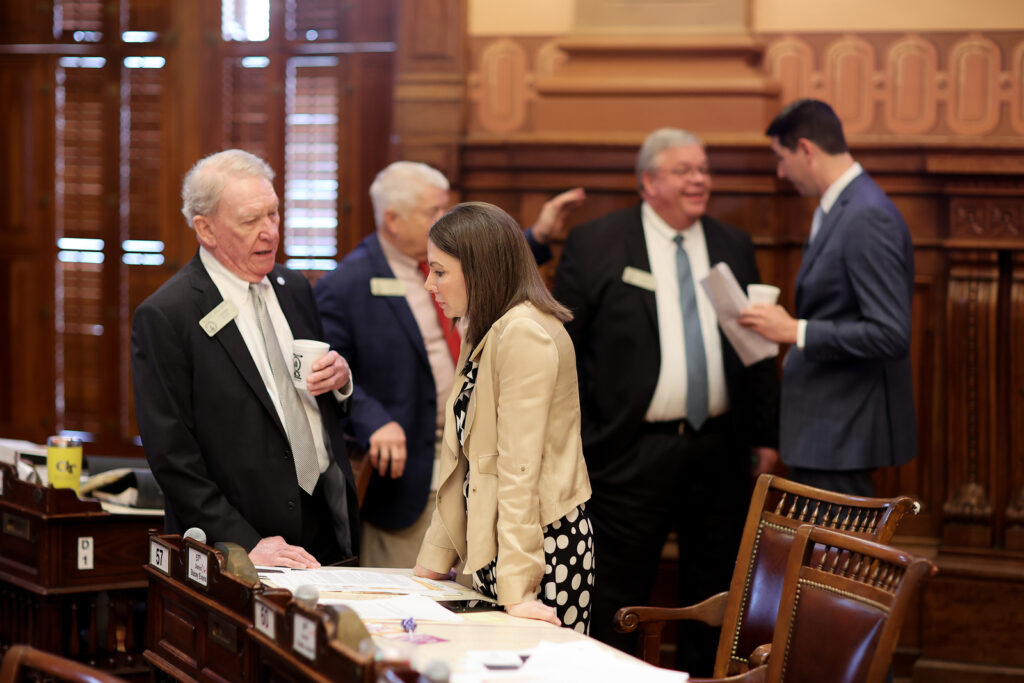 Friends don't let friends be uninformed
Help your neighbors stay informed and encourage them to subscribe to our newsletter. You can check the boundaries of District 57 here to find friends who may want to keep up with the goings on under the Gold Dome. Anyone (in the district or not) can subscribe to this newsletter by visiting my website and filling out the form "Join us, sign up for email updates" on the home page. Each one reach one!
As always, it is an honor to represent you under the Gold Dome. Please continue to reach out to me with your questions and thoughts on legislation.
State Representative
HD 57
770-710-4087