Below you will find an end of session report that lists bills of interest that did and did not make it through this year's session, as well as a few announcements.
Please make sure you are registered for our virtual town hall on Tuesday the 18th at 7pm. See the details below.
Last Virtual Town Hall
We will have our last town hall of the 2023 Legislative Session on Tuesday April 18th at 7pm. State Senator Sonya Halpern and I will bring you the latest news from the Gold Dome post-session and answer any of your questions. You can register here.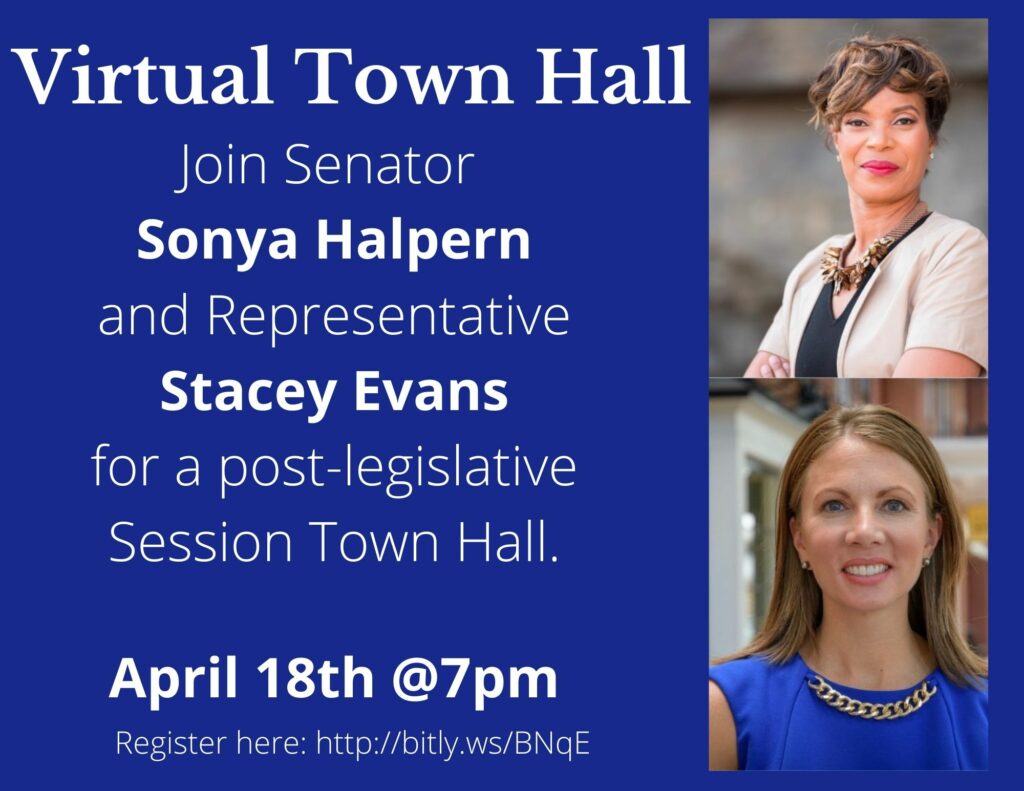 Bills that passed both chambers on which I voted YES
Health
HB203 Revises provisions relating to restrictions on the sale and dispensing of contact lenses with respect to physicians. This legislation would allow for a prescription of contact lenses following a telehealth eye assessment as long as an in-person examination was performed within the last 24 months.
HB414 Establishes a grant program within the Department of Behavioral Health and Developmental Disabilities to provide behavioral health services to military service members, veterans, and their families.
HB416 Authorizes qualified pharmacy technicians to administer certain vaccines.
SB164 Provides for licensure of advanced practice registered nurses and establishes practicing advanced nursing practice without a license as a misdemeanor.
HB85 Requires health benefit policy coverage for biomarker testing when the testing is supported by medical and scientific evidence per certain conditions.
Public Health
SB46 Requires physicians and healthcare providers to test all pregnant women for HIV and syphilis at the first prenatal visit, at 28–32 weeks' gestation, and at delivery.
SB47 Provides that vaping in restricted areas is a misdemeanor punishable by fine.
SB107 Enacts "Izzy's Law"; which states the Department of Public Health shall develop and make available for download from its website a model aquatic safety plan based on national standards for private swim instructors.
K-12 Education
HB147 Enacts the "Safe Schools Act"; which provides for a school safety anti-gang endorsement for eligible certificated professional personnel and requires intruder alert drills in all public schools.
HB340 Provides for daily duty-free planning periods for teachers in grades six through 12.
HB440 Authorizes public and private schools to stock a supply of undesignated ready-to-use glucagon.
SB45 Relates to the health of students in elementary and secondary education, so as to provide for the care of students being treated for epilepsy or a seizure disorder.
HB538 otherwise known as the "Georgia Early Literacy Act," requires the Department of Early Care and Learning to provide for evidence-based literacy instructing training requirements for certain teachers. Additionally, the measure would require the State Board of Education to establish a uniform standard for measuring literacy, approved high-quality instructional materials for students in grades kindergarten through third grade and universal reading screeners for public school students in grades kindergarten through third grade. This bill has been signed and goes into effect on July 1st, 2023.
Higher Education
HB142 Establishes unified campus police forces through agreements entered by colleges and universities.
HB163 Provides for student loan repayment for medical examiners employed by the Division of Forensic Sciences of the Georgia Bureau of Investigation.
HB249 Lowers the threshold of courses that must be completed for students before they can qualify for a needs-based financial aid "completion grant" to finish their degree. 
SB86 Allows eligible students participating in the Dual Enrollment program to access HOPE career grant funds for certain CTAE courses irrespective of whether they have reached maximum credit hour caps.
SB246 Provides for student loan repayment for certain nursing faculty
Children and Families
HB129 Would make pregnant women eligible for the existing Temporary Assistance for Needy Families program. The program is currently available to families with children, but not expecting parents. To qualify, families have to meet strict income limits and weekly work requirements. 
SB134 Provides that a child witness be deemed competent to testify without taking the oath; to allow the use of narrative form medical reports in dependency and termination matter.
Economy
HB162 Is a one-time tax credit for individual taxpayers who filed income tax returns for both the 2021 and 2022 taxable years. The tax credit is $500 for married couples filing jointly, $375 for single filers with dependents, and $250 for single filers.
SB193 Provides for the Department of Community Affairs to determine locations that are eligible for state or federal funding programs administered by the state for improved broadband services.
Transportation
HB120 Provides standards for issuance of limited driving permits for certain offenders.
HB242 Relating to the Georgia Driver's Education Commission, so as to provide for an additional penalty for violation of traffic laws or ordinances under "Joshua's Law."
SB146 Provides for the regulation and taxation of the provision of certain electricity used as a motor fuel in electric vehicles.
Insurance
HB315 Promulgates rules and regulations regarding cost-sharing requirements for diagnostic and supplemental breast screening examinations.
Georgia Workers
HB155 Provides for the issuance of licenses by endorsement for certain licenses to spouses of firefighters, healthcare providers, and law enforcement officers who relocate to the State of Georgia.
HB480 Increases workers compensation benefits for total disability and temporary partial disability; the legislation also increases total compensation payable to a surviving spouse.
SB61 Repeals the sunset provision for the availability of sick leave to immediate family members.
SB3 Otherwise known as the "Reducing Barriers to State Employment Act of 2023," which requires state departments, agencies, boards, bureaus, offices, commissions, public corporations, and authorities to assess educational, experiential, and training requirements for positions of employment and to identify positions where such requirements can be reduced. The bill encourages efforts to reduce the number of positions for which a four-year college degree is required.
Consumer Protections
HB295 Revises certain procedures, timelines, and other matters concerning consumer protections against surprise billing; and provides grounds for new violations of unfair claims settlement practices.
SB73 Provides for class action suits and for damages against certain persons for violating provisions relating to telephone solicitations.
SB74 Requires the disclosure of the nature and practices of businesses that provide legal services; and prohibits persons ineligible to provide legal services from holding themselves out as attorneys.
SB84 Otherwise known as the "Georgia Uniform Securities Act of 2008," provides for financial protections for elder and disabled adults who may be victims of financial exploitation.
SB149 Enacts the "Georgia Door-to-Door Sales Act," that requires sellers to furnish to buyers' receipts and copies of any contracts; provides notice of how to cancel a sale.
SB197 Prohibits deceptive or misleading terms or false representations by health care practitioners in advertisements and representations.
Voting and Elections
SB129 Provides time off for employees in Georgia to early vote.
Judiciary (Civil)
SB103 Allows companies to research unclaimed property available to individuals and assist them in recovering it for a fee.
Judiciary (Non-Civil)
HB88 Enacts the Coleman-Baker Act to allow for review of cold case murder files of local jurisdictions by a state law enforcement.
HB188 Enacts the Georgia Dangerous Sexual Predator Prevention Act or "Mariam's Law," which creates a classification system for sexual offenders based on a review by the State Board of Pardons and Paroles. 
HB227 Provides for the offense of criminal interference with critical infrastructure.
HB302 Allows a procedure for obtaining temporary and permanent restraining orders in stalking cases.
HB497 Authorizes the use of certified medication aides in penal institutions.
SB11 Enacts the "Georgia Fights Terrorism Act," which would allow the GBI to investigate allegations of terrorism, independently or collaboratively with other law enforcement agencies. The types of terrorism outlined in the bill include domestic, cyber, biological, chemical, and nuclear. 
SB42 Creates a model notice with human trafficking hotline information in businesses and on the internet, and increases the fine for failure to comply.
SB60 Makes it illegal for certain persons to purchase, possess, obtain, or sell or attempt to purchase, possess, obtain, or sell used, detached catalytic converters, used utility wire, or used communications copper.
SB218 Provides for the issuance of identification cards to persons after incarceration.
State Government
SB93 Restricts the use of certain social media platforms on state equipment.
Local Government
HB193 Relating to public works contracting and bidding requirements, so as to increase the dollar values of certain public works construction contracts exempt from bidding requirements.
Bills that passed both chambers on which I voted NO  
Public Health
SB1 Prohibits state and local governments from requiring proof of COVID vaccination. 
SB140 Prohibits gender affirming care for transgender minors.  
Transportation
HB189 Allows agricultural and timber trucks on state, city and county roads to be up to 4,000 pounds heavier – moving the limit from 84,000 to 88,000 pounds. The bill has a clause that does not allow trucks with such heavier weight within the city of Atlanta. The Department of Transportation said we are not prepared for this extra weight and that is why I voted no.  
Voting and Elections  
SB222 Prohibits local election offices, which are often underfunded, from accepting grant money to help run elections. 
Judiciary Non-Civil 
SB44 Would add a mandatory 10 years to prison sentences for anyone convicted of recruiting minors into a gang and make it harder for judges to avoid giving anyone convicted of gang activity at least five more years in prison. 
SB92 Would create a commission to discipline or remove district attorneys and county solicitors general.   
SB159 Prohibits wireless communications and stand-alone electronic devices behind guard lines.  
Local Governments  
HB374 Would have prevented local governments from making a decision to ban leaf blowers within their own jurisdictions.  
Housing  
SB62 Requires localities to enforce bans on homeless people camping in public.  
Bills that did NOT pass either the House or the Senate 
HB71  Would ban mining near the Okefenokee Swamp in southeast Georgia.  
HB144 Would create a definition of antisemitism that could be referred to in hate crime prosecutions.  
HB237 Would legalize sports betting under the state lottery. Tax revenue would flow to HOPE and pre-K.  The bill would also force spending of a percentage of excess Lottery reserve funds each year—currently those are $1.1 billion higher than the approximately $800 million required by law. 
HB404  Would require rental properties to be "fit for human habitation" upon signing a lease, and landlords would be required to maintain their properties throughout the lease. 
HB462 Would raise the age for filing adult criminal charges against people from 17 to 18 for most crimes.  
HB505 Would make the crime of rioting (written to include many forms of protest) a felony instead of a misdemeanor.  
SB63 Would expand the list of offenses that are required to post bail before being released to include more misdemeanors and more than 30 new charges, like forgery, theft and criminal trespass.  
SB88  Would limit how public and private schools and camps talk to students about gender identity.  
SB114  Would have allowed residents of Atlanta's Buckhead neighborhood to secede from the city of Atlanta and create a new city.  
SB154 Would remove school librarians from the exemption that keeps public librarians and librarians at any school, college or university from being prosecuted for sharing any materials deemed "harmful to minors." 
SB233  Would give $6,500 educational vouchers to many students to pay for private school tuition, home schooling or other educational needs
UGA Law Wins International Moot Court Competition
I presented a resolution to congratulate the University of Georgia School of Law LL.M. students on a victorious moot court competition. You can read the full resolution here. These international students, many from the Ukraine who began studying at UGA Law after the Russian invasion, brought home the win. What an amazing achievement!
As always, it is an honor to represent you under the Gold Dome. Please continue to reach out to me with your questions and thoughts on legislation even though the next legislative session is not until 2024. Also, please remember I'm here to help with issues you may encounter with state agencies.
Thank you to so many of you who recently donated. Your contributions ensure we can deliver top notch constituent services, including this newsletter. I appreciate your continued support.